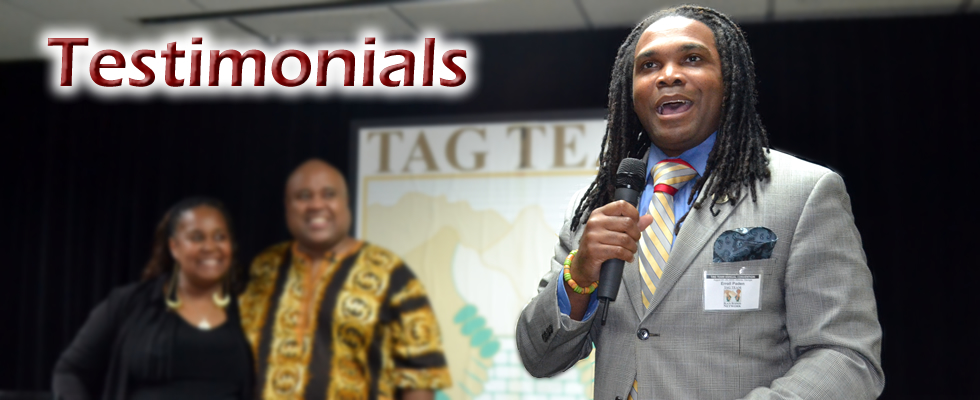 REAL PEOPLE, REAL STORIES
Read the words of real people who have been impacted by the TAG TEAM Marketing Opportunity. The amazing words of these TAG TEAM Marketers will enlighten and inspire you.
---
Toni Hughes
I was exposed to network marketing back in the 1990s and fell in love with the concept. I joined company after company, but never earned a penny. Then, I found TAG TEAM Marketing.
The training here is amazing! It's so easy to learn. I have learned how to promote and sell products, and also how to build teams with confidence. The system makes so much sense to me. I follow it step by step, apply it, duplicate it and get results.
So now, I am actually making money for the first time. I receive checks every week. Best of all, I have built a team of Marketers who are also receiving checks weekly. It feels great!
Best of all, I am truly living my purpose by helping to build the Buy Black Movement! I love this company.
---
Erroll Paden
Being a TAG TEAM Marketer has given my family and I true freedom. I am free to earn as much money as I want to, as opposed to what an employer thinks I am worth. I am free to do the best I can, for myself, my family and the Black Community.
As a TAG TEAM Marketer, I work side-by-side with my Brothers and Sisters from around the country. I am not doing this alone. Together, we are positively impacting our community for generations to come. Every day, I get to see, first-hand, how my work makes a real difference in my family, with my friends and the Black Community. I am actually generating change in the things and the people that I hold most dear.
I am making a difference, having fun and earning, while helping to put the Black community into a position of power, economically. I love being a TAG TEAM Marketer!
---
Dorothy Cooper
Over a year ago, we teamed up with TAG TEAM Marketing to boost sales for our company. Their network marketing platform has sustained our bottom line like nothing else. So I want to publicly thank Delxino, Debbie and the whole TAG TEAM Marketing team. You guys are awesome and what you do for our community is far more than any other organization that I know of.
---
Nathaniel Turner
Being a TAG TEAM Marketer means the world to me. I had been searching years for an opportunity really help Black people. I wanted to make a difference in my life as well as my family, my community and Black people all over the world. I found all of it in the TAG TEAM Marketing Opportunity.
I love the training that I receive as a TAG TEAM Marketer. I am learning powerful skills that we are using to promote Black businesses, sell Black products and bring our people together. I am becoming the best me I can be... trustworthy, honest, fearless and coachable.
Best of all, I get the opportunity to speak to incredible Black people everyday about this Buy Black Movement. This is a real joy for me. I am helping to create a great future for our people!
---
Cassondra Ceaser
TAG TEAM Marketing is the most profound program for Black men and women. I totally endorse TAG TEAM Marketing and their Black Business Network program.
My experience with TAG TEAM Marketing has not only been a positive one, but a profitable one. Selling lots of my product and earning money is not only my goal, but TAG TEAM Marketing's goal as well. The success that I have enjoyed is beyond imagination.
Since the day I joined, it has been a great experience for both me and business partners, and my entire family. We all speak highly of TAG TEAM Marketing for what they have done for us and what they are doing for the entire community.
---
Carlton &
Dorothy Bonner
My wife and I love the TAG TEAM Marketing Opportunity! For us, it was a no-brainer to join. We have been so impressed with the team chemistry, the fellowship and the feeling of belonging. Also, the training is second to none.
As TAG TEAM Marketers, we have successfully united lots of Black consumers with Black-owned businesses and gotten others to join this amazing team. Also, our relationship with each other has benefited greatly by working together as partners. The TAG TEAM Marketing Opportunity has been a dream come true!
---
Katherine Myers
Being a TAG TEAM Marketer has truly changed my life. I am on the path to financial freedom for for the first time in my life! My family's future is set. I have never been more proud to be Black then I am now because I am learning so much about myself and my people.
Even though there is a lot of negativity going on in the Black community, I am a part of something that is bringing the change in the Black community that is so desperately needed. I am no longer sitting on the sidelines wondering what I can do to help my people. I am doing it with TAG TEAM! It's incredible!!!
As a TAG TEAM Marketer, I am learning from the best in the industry, Delxino and Deborah Wilson de Briano. Also, I am surrounded by leaders who have my best interest at heart along with the best interest of the Black community. They lead by example. I LOVE IT!!!
Being a TAG TEAM Marketer has been a dream come true for me.
---