Marcus Garvey's Impact
Marcus Garvey has had a tremendous impact on millions of people, countless movements and lots of countries all over the world. Below is a small list of some of the people, places and things that were impacted by the amazing life and accomplishments of Marcus Garvey.
Steve Biko

Steve Biko was a noted anti-apartheid activist in South Africa in the 1960s and 1970s. He was one of South Africa's most significant political activists and a leading founder of South Africa's Black Consciousness Movement. His death in police detention in 1977 led to his being hailed as a martyr of the anti-Apartheid struggle. He was greatly influenced by the vision of Marcus Garvey.


---
Minister Louis Farrakhan

Minister Louis Farrakhan is the leader of the Nation of Islam, the most powerful Black religious movement in the world, with hundreds of thousands of members in the United States and countries around the world. He is one of the most powerful Black men in the world.
Minister Farrakhan has stated many times that he was very inspired by the life and accomplishments of Marcus Garvey. While on stage, Minister Farrakhan often tells a powerful story from his childhood where he visited his uncle's home. He saw a picture on above the fireplace and was glued to it.
Young Louis asked, "Who is that man?".
His uncle picked Louis up, put him on his shoulders and said, "That's Marcus Garvey".
Louis asked, "What did he do?".
His uncle said, "He came to unite our people".
Louis said, "Where is he? I want to meet him".
His uncle said, "You can't. He's dead".
Minister Farrakhan then says he cried and felt lost because Garvey was gone.
---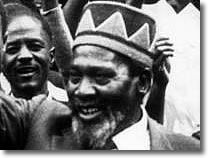 Jomo Kenyatta

Jomo Kenyatta was the first President of independent Kenya in 1964. Jomo Kenyatta is arguably Kenya's greatest and most beloved son. His vision for a unified and free Kenya lives on, and is a major source of inspiration not only for Kenyans, but all people of African descent. He was a greatly inspired by the work of Marcus Garvey.


---
Patrice Lumumba

Patrice Lumumba was a Congolese independence leader and the first legally elected Prime Minister of the Republic of the Congo after he helped win its independence from Belgium in June 1960. He was inspired by the work of Marcus Garvey.


---
Dr. Martin Luther King, Jr.

Dr. Martin Luther King, Jr. was a Baptist preacher, activist, and leader in the African American civil rights movement. During a trip to Jamaica on June 20, 1965, Dr. Martin Luther King, Jr. and his wife Coretta Scott King visited the shrine of Marcus Garvey and laid a wreath on his grave.
In a speech he told the audience that Marcus Garvey "was the first man of color to lead and develop a mass movement. He was the first man on a mass scale and level to give millions of Negroes a sense of dignity and destiny, and make the Negro feel he was somebody."
After his death, Dr. King was a recipient of the first Marcus Garvey Prize for Human Rights, awarded to Coretta Scott King by the Jamaican Government on December 10, 1968.
---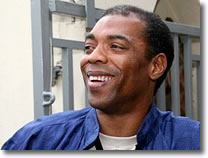 Fela Anikulapo Kuti

Fela was a famus Nigerian singer.
To the Pan-African world, Fela was a towering figure who arguably combined elements of pure artistry, political perseverance, and a mystic, spiritual consciousness in a way that no other individual ever has. Musically, he achieved a level comparable to Miles Davis, James Brown, Thelonius Monk, and Bob Marley. At times, he was a Peter Tosh or a Sun Ra, yet more.
Politically, he subscribed to the point of view of Marcus Garvey.


---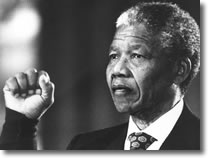 Nelson Mandela

Nelson Mandela was a world-renowned freedom fighter.
He was an anti-apartheid activist in South Africa who was arrested and sentenced to life in prison. Mandela served 27 years in prison, before being released in 1990. Mandela led his party in the negotiations that led to multi-racial democracy in 1994. Mandela served as President of South Africa from 1994 to 1999.
Mandela has stated publicly that he admires Marcus Garvey.


---
Bob Marley
Jamaican singer Bob Marley was the greatest Reggae music artist of all times. He was greatly impacted by the life and works of Marcus Garvey.
Bob Marley quotes Marcus Garvey in several of his songs:
Marcus Garvey used to end all of his speeches with the signature statement, "One Love". Bob Marley made a classic song named "One Love" that first appeared in 1965 and was later reworked into the classic 1977 release on his "Exodus" album.


In his song "So Much Things To Say", Bob Marley sings "I'll never forget, no way. They crucify Jesus Christ, I'll never forget, no way. They stole Marcus Garvey for rights."


Perhaps his most impacting songs is named "Redemption Song" from his ninth album "Uprising", which features a quote from Marcus Garvey, "Emancipate yourself from mental slavery... none but ourselves can free our minds".
In his own words, Bob Marley said, "Marcus Garvey is a prophet", as can be seen in this video: http://www.youtube.com/watch?v=cPH7K61mdRc
---
Honorable Elijah Muhammad

Elijah Poole grew up outside of Macon, Georgia, and in 1923 moved his family to Detroit, Michigan. In Detroit. Elijah joined the Nation of Islam in 1931 and changed his name to Elijah Muhammad. He went on to lead the Nation from 1934 until he died in 1975. Elijah Muhammad recruited hundreds of thousands of Black people into the Nation of Islam, developed tremendous Black-owned businesses, large real estate holdings, armed forces and schools. He built a mass movement that spans the globe today.
In the preface of his book, "Message to the Black Man", there are many references to Marcus Garvey and his movement. Elijah Muhammad loved, respected and honored Marcus Garvey, and bid his followers to respect and honor Marcus Garvey as a forerunner to the work being done by the Nation of Islam.


---
Kwame Nkrumah

While in college in the United States, Kwame Nkrumah encountered the writings and ideas of Marcus Garvey, which had a big impact on him. As a result of this inspiration, he decided to begin working to free Africa of colonial rule.
From 1952 to 1966, Kwame Nkrumah was the leader of the Gold Coast that became Ghana in 1957, when it won its independence from British colonial rule. Nkrumah was the first President of Ghana and the first Prime Minister of Ghana.
Since Garvey, many argue that nobody has done more to bring freedom to Africa, pride and dignity to Black people everywhere, and honor to Marcus Garvey, than Kwame Nkrumah. In honor of Garvey's inspiration, Nkrumah named the national shipping line of Ghana, the "Black Star Line", and also the national soccer team, the "Black Stars". The Black Star appears in the middle of the flag of Ghana as well.
Nkrumah is celebrated today as the liberator of the West African nation of Ghana, and one of the greatest figures in Black history.


---
Julius Nyerere

Julius Kambarage Nyerere was President of Tanzania (previously Tanganyika), from the country's founding in 1964, until his retirement in 1985. Born in Tanganyika, Julius Nyerere was known by the Swahili name Mwalimu, or "teacher," because of his profession before becoming active in politics. Nyerere famously encouraged leaders in the South to work together. Nyerere was inspired by the work of Marcus Garvey.


---
Leopold Sedar Senghor

Leopold Sedar Senghor was a Senegalese poet, politician, and cultural theorist who for two decades served as the first president of Senegal (1960–1980). Senghor was the first African elected as a member of the Académie française. Before independence, he founded the political party called the Senegalese Democratic Bloc. He is regarded by many as one of the most important African intellectuals of the 20th century.
Senghor was one of the originators of the concept of Négritude, defined as the literary and artistic expression of the Black African experience, which has deeply influenced the strengthening of African identity in the French-speaking, Black world. Senghor was inspired by the work of Marcus Garvey.


---
Delxino Wilson de Briano

Delxino Wilson de Briano is the co-Founder and President of TAG TEAM Marketing, and leader of the Buy Black Movement. Delxino is one of the most accomplished Black people in the network marketing industry, having built and led a predominantly Black team to over 230,000 people. Today, Delxino leads the Buy Black Movement to get millions of Black people buying from Black-owned businesses.
Delxino frequently speaks of Marcus Garvey being his inspiration for creating the Buy Black Movement. In his own words, Delxino said, "A century ago, Marcus Garvey inspired millions of Black people to unite, believe in themselves and work together towards the upliftment of our people. He also gave us a tremendous economic vision and made us believe that we could achieve it. He gave us the blueprint. TAG TEAM Marketing is here to carry on that work in the 21st century."

---
Malcolm X

Malcolm X was a Minister in the Nation of Islam, powerful speaker, Pan Africanist, and a courageous advocate for the rights of Black people. He was one of the most influential Black people in history.
Malcolm X's parents, Earl and Louise Little, met at a Marcus Garvey Universal Negro Improvement Association (U.N.I.A.) convention in Montreal, Canada. Earl was the president of the U.NI.A. division in Omaha, Nebraska and sold Marcus Garvey's Negro World newspaper, for which Louise covered U.N.I.A. activities.
Recalling his father in his autobiography, Malcolm X said, "the image of him that made me proudest was his crusading and militant campaigning with the words of Marcus Garvey... it was only me that he sometimes took with him to the Garvey U.N.I.A. meetings which he held quietly in different people's homes."
Malcolm X always spoke highly of Marcus Garvey, as can be seen in this video: http://youtu.be/u-0l-tW--7w

Rastafari Movement

Marcus Garvey made frequent speeches prophesizing a Black Messiah, a king who was to be crowned in Africa. In 1930, a Jamaican religious movement sprang up around his works, declaring Garvey a prophet, and Ethiopian Emperor Haile Selassie (formerly Ras Tafari Markonnen), the expected messiah. It is called the Rastafari Movement.
The most important symbol of the Rastafari Movement is the flag with three bands of red, black, and green, a symbol of Marcus Garvey's movement, and the Lion of Judah, the personal emblem of Haile Selassie. The colors on the flag are red, representing the blood of African martyrs, Black, for the skin color of believers, and green, for the color of the Promised Land (Ethiopia).
Rastafarians have a deep admiration and respect for the life, the works and the prophecies of Marcus Garvey.
---
Kwanzaa

The African American celebration of Kwanzaa was invented in 1966 by Maulana Karenga. The holiday uses the colors of red, black and green. black for the people, red for their struggle, and green for the future and hope that comes from their struggle. The colors are based on the colors given by the Honorable Marcus Garvey as national colors for African people throughout the world.


---
TAG TEAM Marketing
TAG TEAM Marketing created the Buy Black Movement program to get millions of Black people buying from Black people consistently, booming Black-owned businesses and creating Black economic independence, just as Marcus Garvey began in the early 1900s. Garvey's quote, "Be Black, Buy Black, Think Black, and all else will take care of itself!" is the motto of the Buy Black Movement.
In tribute to Marcus Garvey, TAG TEAM Marketing nicknamed its popular business opportunity "Black Star" after Marcus Garvey's famous "Black Star Line" Steamship Company. Members of Black Star move Black people to purchase Black-made products. They also move products from Black businesses to Black consumers. This "movement" of people and products mimics the movement of Garvey's Black Star steamships that transported Black people and products around the world.
Inspired by the vision and accomplishments of Marcus Garvey, TAG TEAM Marketing is committed to carrying forward his legacy by resuming the work of moving the global Black community into economic power. As Marcus Garvey said, "A race without power is a race without respect."
Jamaica

Marcus Garvey was born in St. Ann's Bay, Jamaica in 1887, grew up in Jamaica, started his movement in Jamaica, and returned and lived in Jamaica for many years. Through his work and accomplishments, he became one of Jamaica's proudest sons.
When Garvey died in London on June 10, 1940, his body was initially buried at Kensal Green Cemetery in London because it was unfeasible to transport it back to Jamaica due to World War II. In 1964, the government of Jamaica paid to have his remains exhumed and brought back to Jamaica. On November 15, 1964, the day after his body arrived in Jamaica, they held a ceremony and re-buried his body at a shrine in National Heroes Park in Kingston. Garvey's shrine consists of a tomb at the center of a raised platform in the shape of a black star. Behind it, a peaked and angled wall houses a bust of Garvey, which had been added to the park in 1956 and relocated after the construction of the shrine.
On July 18, 1969, the Parliament of Jamaica established the Order of National Hero and officially proclaimed Marcus Garvey as the country's first national hero.
Marcus Garvey's image appears on the Jamaican 50 cent coin, 20 dollar coin and 25 cent coin.
There are also many tributes to Marcus Garvey in Jamaica today:
There is a marker in front of the house of his birth located at 32 Market Street, St. Ann's Bay, Jamaica.


There is a street named "Marcus Garvey Way" in St. Ann's Bay.


There is a statue on the grounds of St. Ann's Bay Parish Library.


There is a major highway in his name in Kingston.


There is a building in his name housing the Jamaican Ministry of Foreign Affairs located in New Kingston.


There is also a Marcus Garvey statue in National Heroes Park in Kingston.
---
Ghana

With the leadership of Kwame Nkrumah, the country of Ghana declared it's independence from the United Kingdom in 1957. Nkrumah was an avid reader of Marcus Garvey's writings and teachings. Upon declaring independence, Ghana created its own flag, utilizing Garvey's symbols, including the red, black and green colors as well as the black star (as in Garvey's Black Star Line). In Ghana's flag, red represents the blood that was shed towards independence, the gold represents the mineral wealth of Ghana, the green symbolizes the rich agriculture, and the black star is the symbol of African emancipation, a shining tribute to the inspiration of Marcus Garvey.
Kwame Nkrumah named the national shipping line of Ghana the Black Star Line in honor of Garvey. Nkrumah also named the national soccer team the Black Stars as well. A bust of Marcus Garvey is also on display at a park in the central region in Ghana.

---
Nigeria
Marcus Garvey inspired Nnamdi Azikiwe, the first President of Nigeria.
There are also several tributes to Marcus Garvey in Nigeria:
A street is named after him in Enugu.


A library is named after him in Yenagoa, Bayelsa State.
---
Kenya

Marcus Garvey's work was followed and read about in Kenya. Of note, it influenced Harry Thuku, an early nationalist leader.
The colors of the flag of Kenya and their meaning was adopted from Garvey.
A major street is named after Marcus Garvey in Nairobi, Kenya.

---
South Africa

A neighborhood bearing Marcus Garvey's name is located in the township of Khayelitsha, Cape Town, South Africa.

---
Trinidad


Garvey had a huge impact on Trinidad. Many Trinidadians played central roles in the Garvey movement.
There were over 30 chapters of the U.N.I.A. in Trinidad, including Balandra Bay, Carapichaima, Caroni Cedros, Chaguanus, Couva, D'Abadie, Enterprise Gasparillo, Guico, Iere village, La Brea, Los Bajos, Mucurapo, Marabella, Matura, Morne Diablo, Moruga, Palmyra, Penal, Port of Spain, Princes Town, Rio Claro, St. Madeleine, San Fernando, Siparia, Tableland, Victoria Village and Williamsville.
Garvey was so feared by the white colonial authorities, that Garvey's newspaper, the Negro World, was banned in Trinidad as in many British colonies throughout the world. Also, the government would not allow Garvey to visit Trinidad personally for many years. He did visit Trinidad in 1937 and was given a big welcome.
Today, a statue of Marcus Garvey (shown left) is located on the Harris Promenade, San Fernando, Trinidad.
---
Canada

Marcus Garvey visited Nova Scotia in October, 1937 and delivered a series of powerful speeches in Cape Breton and Halifax.
There are several tributes to Marcus Garvey in Canada:
There is a Marcus Garvey Centre for Unity in Edmonton, Alberta


The Universal Negro Improvement Association has a Liberty Hall located in Glace Bay, Nova Scotia


There is a Marcus Garvey Bar & Grill in Toronto


There is a Marcus Garvey Centre for Leadership and Education in the Jane-Finch area of Toronto
---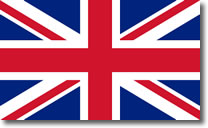 United Kingdom

Marcus Garvey lived in the United Kingdom for many years. While in the United Kingdom, he attended Birkbeck college where he studied law and philosophy. There, he met and was inspired by other Blacks who were involved in the struggle to obtain independence from the British Empire.
There are several tributes to Marcus Garvey in the United Kingdom:



A small park in his name in West Kensington, London


Marcus Garvey Centre in Lenton, Nottingham, England


A Marcus Garvey Library inside the Tottenham Green Leisure Centre building in North London


Marcus Garvey Road in Brixton, London


Marcus Garvey statue in Willesden Green Library, Brent, London

Later in life, Garvey returned to London. He died on June 10, 1940 in London at his home located at 53 Talgarth Road, W14, Hammersmith, London. A plaque appears on the building (shown left).
---
United States

Marcus Garvey built the majority of his mass movement from his headquarters in Harlem, New York in the United States. His impact on Black people in the United States has been huge. There are many standing tributes to Marcus Garvey in the United States:
There is a Marcus Garvey Festival every year on the third weekend of August at Basu Natural Farms, in Pembroke Township, Illinois.


There is a New York Public Library branch dedicated to Garvey in Harlem, New York.


There is a major street in his name in the historically African American Brooklyn neighborhood of Bedford Stuyvesant, Brooklyn, New York.


There is a Marcus Garvey Elementary School, Bedford Stuyvesant, Brooklyn, New York.


A park was named after Marcus Garvey in Harlem, New York (shown right).


The Universal Hip Hop Parade is held annually in Brooklyn on the Saturday before his birthday to carry on his use of popular culture as a tool of empowerment and to encourage the growth of Black institutions.


There is a park in his name in the Tenderloin District of San Francisco, California.


There is a Marcus Garvey Cultural Center, University of Northern Colorado (Greeley, Colorado).


There is a secondary school in Trenton, New Jersey.


There is a Community Center and Senior Housing Community in the Roxbury neighborhood of Boston, Massachusetts.


There is a Marcus Garvey School, featuring K through 8 grade private school education in Los Angeles, California.


There is a Marcus Garvey School, Pre-K through 8th grade public magnet school for math and science in Chicago, Illinois.


Marcus Books stores are named after him in San Francisco and Oakland.


A bust of Marcus Garvey is housed in the Organization of American States' Hall of Heroes in Washington, D.C.
On August 13, 1920, at the month long convention of the UNIA held at Madison Square Garden in New York City, the attendees, which included delegates from 25 African countries, voted and made the declaration official proclaiming the red, black and green flag was the official banner of the African race.
The red, black and green flag has become a symbol of Black unity and pride all over the world. As shown above, many African countries sport the colors in their flags, symbolizing their inspiration by Marcus Garvey, including Ghana, Kenya, Ethiopia and others.
The red, black and green flag became a symbol of Black pride, Black power, and Black nationalism in the 1960s and was worn on clothing by many Black nationalists.
The African American holiday Kwanzaa, founded in 1966, uses the colors red, black and green as well.
In October 1971, Jesse Jackson symbolically opened the Black Expo by tying a red, black and green ribbon to "tie ourselves closer together." Jackson also referred to it as a "love knot."

On May 25, 1963 in Addis Ababa, Ethiopia, 12,000 people attended the first African Liberation Day, many displaying the red, black and green.

During the Jena 6 protests, red, black and green flags were in abundance.

George Augustus Stallings broke from the Catholic Church and started the Imani Temple African-American Catholic Congregation. It's altar is covered in red, black and green cloth.

Minister Farrakhan's Million Man March in 1995 was another event where the red, black and green flag was invoked as a symbol of unity.

An experimental "black survival curriculum" for the development of African Americans in Newark, New Jersey had as one of it's mainstays the displaying of the red, black and green flag in classrooms. Each day started with a salute to the flag.

Dick Gregory ran in the 1973 Boston Marathon wearing a red, black and green tracksuit, the colors of Chicago's Malcolm X University, which he represented.

In 1971 Lawrence Hamm, although only 17 years old, pushed through a resolution by the Newark School board requiring all schools where the student body was greater than 50 percent African American to display the RBG in its classrooms.
An excellent documentary about the red, black and green flag, can be seen here: http://www.youtube.com/watch?v=AqsPzwrOK3A